It's summer time. The days are longer, the weather is warmer, and the call for adventure is getting stronger. You crave to be able to spend more time in the great outdoors with friends and family, or perhaps even a little alone time far from the hustle and bustle of daily life. There's only one problem that you, like many of our patients at Alaska Sleep Clinic, might face: you have sleep apnea and worry about having to bring along your CPAP machine, because as much as you crave adventure, breathing comfortably through the night is far more important. No worries, you don't have to choose between the two any more.
CPAP is Portable: Roughly the size of a soda can.
It's a mini CPAP machine!
Travel CPAP Machine makes camping and dealing with your sleep apnea easy. Whether you're camping in an RV, staying the night in your vehicle, or even tenting it in the remote wilderness, you can take your CPAP machine along with little worry over having to deal with heavy, bulky batteries and equipment.
Devices are lightweight, portable, easy to use, and even comes with its own travel bag for all of your CPAP accessories including: CPAP machine, 6 feet of hose, a universal mask adapter, AC power supply, and masks.
Don't believe it? Let's look and compare the best CPAP machines.
The Philips Respironics DreamStation Go's streamlined design puts portability at its most effective. At only 1.89 lbs it is one of the lightest available while integrating its power pack for easier travel. With two thirds fewer parts than other travel CPAP machines, Philips designed the DreamStation Go to deliver the same therapy, connectivity and comfort available in their standard sized machine.
It is durable, portable, and easily passes through airport security, especially when encased in an optional clamshell carry case. There is an optional FAA approved 1.5 pound rechargeable lithium battery that integrates with the DreamStation Go which can power the machine for a few days depending on pressure settings. One really unique travel feature of the new DreamStation Go is its 12mm micro-flexible tubing that works to make travel easier by reducing tubing bulk by 58%, and also has the added benefit of offering increased mobility while sleeping.
Transcend is one of the smallest and lightest CPAP machines available today. It weighs less than 1 lb. with dimensions of 6.1" x 3.5" x 2.8", making it easy to carry while traveling. Consequently this is a bare bones CPAP machine and it does not include auto on/of, a humidifier, mask fit, or pressure reduction on expiration.
If using the machine while not traveling, an optional humidifier can be attached. While it does not come with an integrated battery, the Transcend can be operated with a battery but requires a mobile power adapter.
Automatic altitude adjustment is available up to 8,000 ft. It is slightly more noisy than other travel CPAP machines, and also a bit less durable. For a low cost, no-frills travel CPAP machine, consider the Transcend.
AirMini™ Auto Travel CPAP Machine
In mid May of 2017 the AirMini™ by ResMed became the smallest, lightest travel CPAP machine on the market.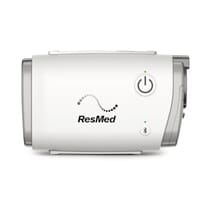 Earlier travel CPAP machines were criticized for being loud, and ResMed has solved this problem with the ultra quiet AirMini™. It works with ResMed's proven comfort technology and is weighs only 10.6 ounces! It comes a waterless disposable humidification system, making it extremely convenient for travel.
The AirMini™ is durable, portable, and easily passes through airport security. It works with the AirMini™ app that tracks 30 days of CPAP usage data and offers therapy suggestions to users on a smartphone. One feature that sets it apart is that ResMed has allowed only three masks to interface with the AirMini™ at this time.
CPAP Battery Back-up: Weighs less than 2 pounds!
Traditional batteries for portable CPAP machines made getting away difficult with a battery that required a large enough case to fit a small dog in and weighing around 20 pounds! AND THIS WAS JUST FOR THE BATTERY!! It used to take a very dedicated camper to want to bring that much equipment with them.
The Transcend Travel CPAP Machine's Multi-Night Battery weighs only 1.5 pounds, and fits in the palm of your hand. The Multi-Night Battery lasts between 14-16 hours per charge making it perfect for a 2-3 three-night trip.
The battery pack also comes with multiple adapters for those campers that will be near a power source, from traditional wall sockets, DC power converters, and even international plug adapters for use in the United Kingdom, European Union, Australia and New Zealand.
A few options are available with strong battery life while traveling. And if backpacking or camping grants little space in your pack, the Z1 is the lightest CPAP machine on the market at only 10 ounces and 6.5 inches long. Purchasing the Z1 from Alaska Sleep Clinic grants customers a trained DME technician that will call within 24-48 hours of purchase.
A second option is the Transcend Auto Mini CPAP weighs less than one pound and is a fully-featured APAP with EZEX pressure relief technology providing more breathing comfort. Unique to this CPAP with a "military grade construction" is Transcend's 14-hour battery and solar panel recharge ability.
Even Solar Powered!
But wait, it gets even better. For those of you interested in camping off the grid, far from civilization or even a power source, there's even an optional solar charger for the Transcend batteries. This lightweight fold-able solar panel charger can charge your batteries to full in just 6-12 hours depending on your battery. That's right! You can connect the solar panel to the battery during the day in direct sunlight and be confident that your CPAP machine's batteries will be fully charged before you go to sleep at night.
If for some reason you're still not convinced of the versatility and portability of this device, check out the video below as adventurer Peter Rowe takes his Transcend Travel CPAP machine along with him on many adventures including a week long sailing trip and even up to 16,000 feet in the Himalayas!!
So now you have no excuses keeping you from living an adventurous, outdoorsy lifestyle. It's time to pack your tent, your hiking boots, and your Transcend CPAP machine and hit the trails in search of adventure, and be rest assured that you can rest for sure anywhere you want to be.
If you're needing any additional information on traveling with a CPAP machine where you may be disconnected from everyday modern accommodations, or would like to purchase a travel specific CPAP machine, feel free to contact the Alaska Sleep Clinic.